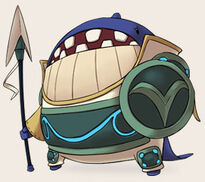 Whale, The Guardian. Devoted himself in the fierce battle to protecting his friends by his Shields, Buffs, Spells and his gigantic body. Even though his body size disadvantage his own speed, he possessed many buffs and support spells to aid his teammate in the tides of war.
Whale is one of the most reliable Tail for the team in term of Surviving , Dungeoning and Boss rushing.
The Sentinel of the Sea. "Ocean Templar" is the title given to the Whale who has proven himself to both allies and enemies. He carries his trusty spear and shield to act as a wall to support his friends.He is able uses his skills to inflict damage around him. He can also call upon his fellow knights from the seas when the need arises.

Ocean Templar
Aqua Knight
The Chivalry of the Bedrock. The Aqua Knight who is granted powers from the sea. Though he may be slow but his stride is filled with confident resolves. Armed with many forms of combat, he is ready to overcome every obstacles in his way as well as providing support to those nearby. His strengths lies in his uses of his special attributes to deal out massive damage.
Stat Builds
Edit
Attack: How much damage you deal to the enemy by your spear are depended on this one. Main stat for "Aqua Knight" if you want your Whale to be melee fighter, but you can skip this stat if you're playing "Ocean Templar", since Templar skills's damage were mostly base on Tal, so this stat is main priority for "Aqua Knight", but not "Ocean Templar".
Defense: An important stat no matter which role you're playing. DEF are aided well with "Aqua Knight"'s "Auto Shield" and "Ocean Templar"'s "Harden Skin". DEF will make you survived much longer and KOing much slower when you're tanking against mob.
Agility: Most of people overlook this stat due to Whale's movement speed(Whale is the slowest Tail, compared to another Tails), but considered about "Ocean Templar"'s "Heavy Weight" and "Over Presence", If you're PVPing, This AGI can come in handy and gave you advantage by slowing your enemy's movement speed and approach them with your additionally increased speed.(And don't ever forget that AGI also reduce your Cooldown for every active skills you have)
Vitality: If you're tanking, this is the first priority stat to be considered, but if you're not on tanking role, you can simply let your "Over Size" skill deal with your own VIT. And also, High VIT means your healing bonus for "Rejuvenate" Spell will increased when you're cast on yourself too.
Intelligence: For "Aqua Knight", just simply ignore this stat(Whale has high initial INT ,compared to another Tails), For "Ocean Templar", This is your main stat, since most of Templar's skill consume MP and required casting. this stat can get you out of problem like being KO while casting(since Whale's spell casting speed were very slow until you have "Reduce Cast") or can save you from being ran out of MP matter. (at least, take some times before your MP are depleted)
Charisma: Don't overlook this one, CHA was effective on every Buff/Debuff Whale had, it'll make your "12th Kingdom Knights" last longer when you're Aqua Knight, and made every Buff/Debuff last longer when you're Ocean Templar, and when you pair up your own CHA with "Honor" skill, Your(and your team's) advantage buff(s) on the battle will last with you nearly to the end of battle.
Talent: TAL was very important when you're play as "Ocean Templar", Every damage dealer skills were calculating the damage by your own TAL. But for "Aqua Knight", You can leave your own TAL as it is, Only use of TAL for Aqua Knight was your initial SP. (*There was rumors says"Aqua knight" 's "Wall Puncture" were calculate damage based on TAL, but no one ever tried and researching on this rumor officially yet, And since ATK is confirmed to increasing the damage done by"Wall Puncture" already, Until now, This rumor is yet to be confirmed.)
Luck: LUK made you likely to occur some passive skill(s) more often, and was the only stat that increase"12th Kingdom Knights" 's damage so far. not very important, but don't forget how useful LUK is. Who knows? Maybe one day, Your life will depend on the goddess of luck.
Possible Builds
Edit
Ocean Templar: ATK , DEF , VIT
Aqua Knight: INT , TAL , CHA
Tanker: DEF , VIT
Buffer(Enchanter): CHA , AGI (spend some point for INT instead of AGI if you're often ran out of MP, unless you have Penguin or Rabbit's support skill)
PVPer: ATK , AGI , VIT , TAL
The only note is, choose your role before spending your points on any stat, when you're sure which role you are, spend the point and focus only 2-3 main stats. this will worth every points you have been spended
Skill Map
Edit
Skill

State
Lv
Combo

Increase maximum number of combo avaiable for normal attack(s).

Passive

2

Shield

Holding charge to raise the shield up for reduce incoming damage. consume 1sp per second while charging.(-20 dmg, -30 dmg, -40 dmg up to skill level)

Passive
3

Shield Bash

After holding charge longer than 3 seconds, releasing charge to attack surrounded enemy with bashing shield, Deal average damage(with an addition damage up to your DEF) and also deal 5ko to enemy.

Passive
1

Culinary Tongue

Improve the effect of foods and beverages you consumed by (Skill Lv.*50%)(Example: if you consuming food that gave you 30 VIT bonus for 1 minute, you'll gain 60 VIT for 2 minutes instead if you have Culinary Tongue Lv.2)

HP/MP/SP Potion and any type of salve are not counted as beverage.

Passive
2

Super Size

Permanent Increasing Whale's size(more hitbox for yourself and your attack), also increasing 15 VIT and increasing weight for 2 tg permanently for every level of the skill.

Whale who grows too big sometime can get themself a little problem(s), like Mission 6-3, If you're Whale with Super Size Lv.4 , You can't enter Yves's shop because your body is too big to enter the door.)

Passive
4

Stat Plus

Adds +2 points to every stat per level.

Passive
4

Support Skill

State
Lv

Sea Aegis

Summon the might of Whale, Decrease all incoming damage for 12 seconds
(damage reduction = Whale's LV. x1)

Active
1
Ocean Templar Skills

State
Lv

Bubble Shield

Call forth bubble shield to protecting allies, The bubble itself will halve the incoming damage, and auto-explode if buff were time out, deal damage to nearby foe up to bubble's remaining HP (30/40/50/60 HP up to skill level, Last 12 sec)

Active
4

Heavy Weight

Increase Weight to selected target(can cast on friend or foe) and reduced movement speed (-1/-2 tspd, +15/+30tg up to skill level, Last 15sec)

Active
2

Over Presence

Reduced enemy's movement speed who stay closer than 10 metre from Whale by -5% / -10% up to skill level

Unlock after spended 2 points on "Heavy Weight"

Passive
2

Hydro Blast

Call forth the Hydro blast from underground, deal damage plus additional bonus damage up to target's weight (20/30/40/50 dmg)

Active
4

Rejuvenate

Cast a spell that give an allies"Rejuvenate" Buff, Regenerate HP over time (Heal 12/18/24/30 HP + 0.4%/0.8%/1.2%/1.6% MaxHP's Healing Bonus for every 4 sec, Last 18 Sec)

Active
4

Whale Wave

Jump up and stomp the ground, Deal damage nearby base on Whale's weight(dmg = 1.0/1.5 x weight up to skill level)

Active
2

Mael Strom

Bump up the ground and create maelstrom, Dealing damage to nearby enemy(25x4 / 40x4 dmg)

Unlock after spended 2 points on "Whale Wave"

Active
2

Harden Skin

Whale's skin getting harder while they're being attacked, which temporary increase Whale's DEF for every hit Whale takes (+1/2/3/4 DEF per hit, maximum stack up 15DEF/30DEF/45DEF/60DEF depend on skill level)

Passive
4

Call To Arm

Instantly teleport Whale to the nearest allies who has lowest current HP on the group(calculate by remain HP as a points remained, not percentage remained) and deal damage+ko to nearby enemy at the destination (30 dmg, 10ko)

Active
1

Salvation

Made every allies in the party except Whale(caster) to become invincible, Take no damage until the buff lasting (Last 5/8 sec up to skill level)

Damage from debuff like poison, curse, doom and any DEF Piercing skill are not affected by Salvation.
Unlock after spended 1 point on "Call To Arm"

Active
2

Megalodon

Call forth the Ancient giant shark rising from below, Deal major damage to the enemy and nearby area around target (200/300x2dmg)

Active
2

Reduce Cast

Reduce Whale's Casting time by halve.

Unlock after spended 2 points on "Megalodon", but also require every skills on Ocean Templar's skills tree to unlock this skill.

Passive
1
Aqua Knight Skills

State
Lv

Sweep

Bringing Whale's spear up, And sweeping in circle to attacking nearby foe(+10/+15x2 dmg)

Active
2

Javelin

Throwing Javelin , Deal long range damage in line(10/20 dmg)

Unlock after spended 2 points on "Sweep"

Active
2

Honor

Chanting the warcry that increasing party's CHA who was in range, And build up the threat(Hate) toward every enemy who's in range up to Whale's CHA (+10/20/30/40 CHA, Build up Hate 1.0/1.5/2.0/2.5 x Current CHA)

Active
4

Shield Rush

Charge enemy with shield, Calculate the damage by Whale's DEF(+10/20 dmg, 10/20 ko)

Active
2

Flying Shield

Throwing the flying shield clockwise, Calculate the damage by Whale's DEF (+10/20 dmg, 5/10 ko)

Unlock after spended 2 points on "Shield Rush"

Active
2

Swallow

Engulf the target to the Whale (9/18 m/s)

Target's weight can affect how long the swallow can draws, the heavier enemy is, the more difficult to be pulled.

Active
2

GobbleUp

Swallowed up any target who's smaller then Whale, use this skill to spit the target out, resetting target's status aliment. can use on any friend, foe and some obstacle like Mole's Gyrogun.

When you're level up this skill, the gobble up's effect are become passive.

Only activate when the target were draws close to Whale by "Swallow".

Any target who has been gobble up will dissapeared from the battle, and become visible again when they're being spitted or gobble up's buff has time out.

Aside from protecting friend from harm, cancel enemy's buff, you can guard NPC by gobbled them up, even move Mole's Gyrogun for saving up mole's MP

Unlock after spended 2 points on "Swallow"

Active
1

Peninsula Impale

Stab the spear furiously, damaging the target in front rapidly. (+10/15 dmg x6/x10 hits )

Active
2

Peninsula Round

Swinging the spear, deal damage continuosly and deflecting any damage to the nearest foe while swinging. (+10/15 dmg x5/x7 Hits )

Unlock after spended 2 points on "Peninsula Impale"

Active
2

Wall Puncture

Whale's every spear attack can occurs "Wall Puncture", which deal penetrate damage(DEF ignoring attack) and pierce through any barrier(10/20/30/40%)

When you have this skill, "Peninsula Impale" will become your most deadly skill, because every stab have a chance to occur "Wall Puncture".

Whale's only skill that won't occur "Wall Punture" is "Peninsula Round"

When "Wall Puncture" is landed, any barrier such as Penguin's"Ice Shield" or Whale's "Bubble Shield" will instantly destroyed.

Passive
4

Auto Shield

Every hit whale take have a chance to occurs "Auto shield" , which auto reducing any incoming damage up to "Shield" level. (12/18/24% Chance occur)

Passive
3

Last Hope

Increase Whale's ATK and DEF when allies is fallen nearby. (+15 atk +15 def/friend, maximum stack up at 60 ATK/DEF)

Unlock after spended 3 points on "Auto shield"

Passive
1

12th Kingdom Knights - Summon the knight of the deep sea for assist. (4/6 knights, Last 60 sec)

Silver knight(skill lv.1) and gold knight(skill lv.2) were very much the same, lv.2 just increasing the number of the knights summoed.

Active
2

Knight Of The Deep

When 12th Kingdom Knights are summoned, Charge attack will become available(Consume 2sp/sec), and also reduce cooldown of "Javelin" and "Flying Shield" by 18 seconds.

Unlock after spended 2 points on "12th Kingdom Knights"

Passive

1
NO SKILL CLIP

Grand Tide Skills

State
Lv
======= Basic Tree Additions

Extended Wave

Increases Whale's normal attack range by 3m.

Passive
55

Shield Reflect

Enables Whale's charging move to reflect 40 damage back to attacker.

Passive
60

Gourmet Heart

Gives additional 100 HP, 40 MP, and 10 SP to Whale everytime he eats food. Also reduces cooldown of food by 50%.

Passive
70

Mega Size

Makes Whale even bigger in size. Adds 40 VIT and increases his Wt by 10.

Passive

Super Stat Plus

Increase all stats by 10.

Passive
======= A Tree Additions

Tide Cutter

Extends sweep's range of by 2m. Also increases damage of Sweep and Jevelin by 20.

Passive
55

Honor Stand

Reduces ko taken by 10% per level of Whale's 'honor' status. Also make honor spell generate additional 300 hate.

Passive
60

Homing Shield

Throw out a flying shield that follows and hits target multiple times. Whale cannot use shield while the shield is still flying.

Active
70

Wonder Belly

Deals 5% of Whale's max HP as damage to a swallowed enemy every 5 seconds, or heals a swallowed ally with the same amount.

Passive

Peninsula Asunder

Doubles the range of peninsula skills. Also enables Peninsula Impale to automatically turns toward a locked target.

Passive
======= B Tree Additions

Bubble Burst

Increases Bubble Shield's level by 1. Activate this to instantly destroy Whale's Bubble Shield, dealing double of its normal damage.

Active, Passive

55

Over Weight

Increases the resulting effect of Heavy Weight and Over Presence by 1 level.

Passive
60

Spiral Blast

Increases the damage of Hydro Blast by 50% and gives it an ability to remove all positive physical status from the target.

Passive
70

Revitalize

Cast 'rejuvenate3' on all allied players within 12m range around Whale. Also increases level of rejuvenate spells by 1.

Active

Diving Press

Increases damage, KO, and range of Whale Wave and Mal Storm by 50%.

Passive
======= Unique Skills
Revised Skill

Reduces Sp cost of skills by 50%

Passive
55
Revised Magic

Reduces Mp cost of skills by 20%

Passive
60
Revised Art

Reduces cooldown by 12%

Passive
70

Bowling Whale

Perform a rolling attack that deals serious damage in its controllable path.

Active

Grand Tide

Channel a giant waves that sweeps forward, dealing 200 damage to enemies in wide range.

Active
Other Images
Edit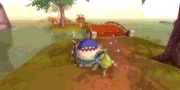 Ad blocker interference detected!
Wikia is a free-to-use site that makes money from advertising. We have a modified experience for viewers using ad blockers

Wikia is not accessible if you've made further modifications. Remove the custom ad blocker rule(s) and the page will load as expected.