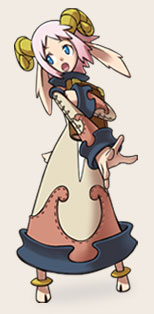 The irreplacable medic of the battlefield, the 11th Tail, the Sheep. With gentle hands, she uses a wide range of healing magics as well as buffs to help out her allies in battle. She can also learn debuffs and spells to aid waning battles. She can either be the bringer of peace or become a sword that pierces through the enemies with ease.
The nurse of light. She exhibits her skills with angelic touch when she heals. The Hierophant is entitled to the knowledge of magical purification and will be able to cure all negative conditions. A perfect ally for all situations, as she can heal the entire party in split second, buffs, ressurect and can deal magical damage to aid her teammates.

Hierophant
Enchanter
The enlightened walker of the earth. She who is able to give blessings to those who follow her. Whether it be to shield them from harm or to imbue with power. Her power gives her the choice to be both offensive and defensive.
Stat Builds
Edit
Attack: increase basic attack from sheep,is not very important
Defense: increase max KOs and reduces damage, put some points in here
Agility: reduces coldown of spells and also increase max movement speed
Vitality: increase vitality of sheep, help a lot, because when you start to heal all enemies will start to hit you, high VIT will help to survive in battle
Intelligence: increase max mp from sheep and reduces cast of all the spells, with 200 int all spell cast only takes 0.5 sec to be casted, is totally necesary put points here
Charisma: increase any possitive and negative duration is more important in HIEROPHANT
Talent: increase max sp and also increase heal power and certain skill from sheep, is also important but not totally necesary, put som point here
Luck: improves CRITICAL HIT , is not necesary in sheep
Possible Builds
Edit
IMPORTANT: INT is always important because you will use a lot of MP and reduces cast spell

Hierophant: Int, Tal, Vit; Int, Vit, Def-Tal; Int, Vit, Agi-Tal
Enchanter: INT, VIT, TAL, CHA; DEF if it possible or use BLESS from hierophant
Skill map
Edit
Someone get a skill map here?
Skill

State
Lv
Combo

Allows Sheep to continue her combo attack.

Passive

2

cAttack

Allows Sheep to gather magical energy at the palm of her hands. When released, the energy acts as a homing missile that seeks out the enemy for large damage.

Passive
4
Harmonic Diffuse

Each action Sheep does will generate less hate towards the enemies

Passive
4
Free Cast

Gives Sheep a slight chance to use a skill without draining any MP

Passive
2
Stat Plus

Adds +2 points to every stat per level.

Passive
4
Final Move

?????

Active
2

Support Skill

State
Lv
Divine Channel

Borrows the holy power of the Sheeps to heal you and your party

Active
1
Hierophant Skills

State
Lv
Heal

Heals your target.

Active
4
Bless

Imbues the target with blessings from the heaven that gives all status a boost.

Active
4
Quick Heal

An instant aoe healing spell around the castor.

Active
2
Heal All (Development of Quick Heal)

A healing spell that heals all your allies no matter how far they are.

Active
2
Pacify

Reduces the target's hate

Active
2
Sleep (Development of Pacify)

Causes the target to sleep, they will wake up once attacked

Active
2
Clear

Rids the target Physical debuffs

Active
2
Cleanse (Development of Clear)

Rids the target of debuffs

Active
1
Cleanse All (Development of Cleanse)

Rids all your party members of debuffs

Active
2
Over Heal

Damages the target that is yet to be harmed for massive damage. Cannot go over 50% of the target's maximum HP

Active
2
Revive (Development of Over Heal)

Revives a fallen party member

Active
2
Benediction

Increases healing's efficiency and allows Sheep's charge attack to charge up faster

Passive
3
Revert (Development of Benediction)

Reverts time to the beginning, causing the target to gain full HP and MP

Active
1
Holy Light

Calls forth holy light from the sky to damage all enemies in a large radius every second. When move or talk, the skill will be canceled, it drains MP every second.

Active
2
Enchanter Skills

State
Lv
Light Bind

Binds the target to the floor while dealing damage per second.

Active
4
Illuminate

Imbues the target with a gentle light that regens HP, MP and SP every 4 seconds.

Active
4
Feather Weight

Reduces the target's weight, allowing them to move faster.

Active
2
All Feather (Development of Feather Weight)

An aoe Feather Weight.

Active
2
Divinity Sword

Strikes the target with holy swords

Active
2
Divinity Spear (Development of Divinity Sword)

Causes holy spears to emerge from the ground attacking the target

Active
2
Seal of Attack

Place 3 SoA anywhere on the map to create a magic field where allies will receive a 10% attack boost

Active
1
Seal of Defense (Development of Seal of Attack)

Place 3 SoD anywhere on the map to create a magic field where allies will receive a 10% defense boost

Active
1
Seal of Earth (Development of Seal of Defense)

Place 2 SoD and 1 SoA anywhere on the map to create a magic field where allies will receive a 15% defense boost and 5% attack boost

Active
1
Seal of Heaven (Development of Seal of Earth)

Place 2 SoAand 1 SoD anywhere on the map to create a magic field where allies will receive a 15% attack boost and 5% defense boost

Active
1
Repel

Creates a barrier that adds a massive amount of defense for the target.

Active
2
Reverse (Development of Repel)

Creates a barrier that converts damage done to the target to healing instead

Active
2
Karma

Reflects back damage done to you to the target

Passive
4
Soul of Arms

Conjures holy weapons above the target and swings down upon them to deal massive damage. 100% guaranteed accuracy.

Active
2
NO SKILL CLIP

Angelic Wing Skills

State
Lv
======= Basic Tree Additions

Homing Light

Restores 5% of Sheep's level to her MP everytime her normal attack hits a target.

Passive
55

Light Burst

Increases the limit of Sheep's charge attack to 500. Also makes it deal 40% area damage to those around it.

Passive
60

Purifying Tear

Instantly removes all hate the Sheep has from targets within 40m.

Active
70

Return Cast

Makes FreeCast return 25% of the spell cost to Sheep when it comes into effect. Also enable it to be used with C skills.

Passive

Super Stat Plus

Increase all stats by 10.

Passive
======= A Tree Additions

Radiant Heal

Enables heal skill to restore 40% of its healling effect to allies within 8m range around its primary target.

Passive
55

Gospel

Increases level of all bless skills by 1 and decreases their cooldown by 70%.

Passive
60

KO Heal

Increases range of QuickHeal by 2m. Also makes Quick Heal and All Heal able to remove some KO damage from targets.

Passive
70

Lullaby

Channel a sleeping spell that put all friendly and hostile targets within 12m to sleep.

Active

Purify

Increases Clear and Cleanse's level by 1 and prolongs their effects to 6 seconds.

Passive
======= B Tree Additions

Intense Bind

Increases lightBind's level by 1 and adds 1 extra seconds to its duration.

Passive
55

Blinding Light

Increases the effect of all illuminate spells by 2 level.

Passive
60

Floating Wing

????

Passive
70

Divinity Axe

Cast a spell that summons out a magical axe, dealing 45x5 damage in its area.

Active

Eden Sanctuary

Temporary call out a sanctuary that reduce all damage in the area by 50%. Requires 3 seals be placed before casting.

Active
======= Unique Skills
Revised Skill

Reduces Sp cost of skills by 50%

Passive
55
Revised Magic

Reduces Mp cost of skills by 20%

Passive
60
Revised Art

Reduces cooldown by 12%

Passive
70

Book Bash

Perform a book bashing attack that has no cooldown. (150% dmg, 3KO )

Active

World Encarta

Summon out a ring of books that lasts 12 seconds, adding defense and dealing damage based on Sheep's attack.

Active
Other Images
Edit
Ad blocker interference detected!
Wikia is a free-to-use site that makes money from advertising. We have a modified experience for viewers using ad blockers

Wikia is not accessible if you've made further modifications. Remove the custom ad blocker rule(s) and the page will load as expected.