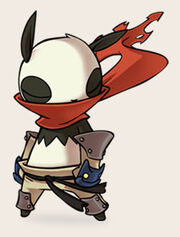 The loner martial artist of the "Tails", the Panda. He is the Third Tail. He specializes in chaining combos with his attack. He can also focus to garner SP in short amount of time to use skills consecutively. He can also support in the backline by giving SP to his allies.

The Oriental Fighter. The Strike Master has the ability to dominate the hand-to-hand battlefields. Whenever he unleashes his power to the limit, adversaries can at most only see a dark crimson shadow that foretells their doom. He will fight until the last tail standing.

Strike Master
Sage Fist
The Enlightened Sage. The philosopher that follows the teaching of "Sage Fist". He understands the flow of nature and utilizes it to the best in his arts by giving himself increased capabilities. He can help out battles by giving portions of his accumulated SP to his allies and confounding opponents with his skills.
Stat Builds
Edit
Attack: Considering the Panda is a melee character, adding to his attack is pretty essential. Otherwise, he'll have a poor damage output, which is kind of what a melee character is all about. Put a lot of points here.
Defense: Since you're likely to be on the frontlines, odds are you'll be taking a lot of damage. Put points either here or in Vitality to help keep your Panda alive.
Agility: Decently useful for the Panda, as it reduces cooldown time of his skills. It's not absolutely essential though, as the Panda's normal attack can hold off enemies long enough. Perhaps a few points if you want to.
Vitality: Much like was said in defense, Vitality is used to keep the Panda alive longer. It seems to do a better job at keeping him alive longer than Defense, so you might want to prioritize this over that.
Inteligence: Very useful for Sage Fist, as a lot of his most useful moves require MP. Make sure to put an adequate amount of points to make sure you won't run out on missions quickly, although it shouldn't take too much.
Charisma: Similarly useful for Sage Fist, as the status effects he can inflict on enemies (And himself) are useful to have last as long as possible.
Talent: Pretty useful for the Panda. Keeping his minimum SP raised to past almost all of his skills' requirements allows you to pull off any skill at any time. Plus, since you should be using your skills as much as possible, you want this to be very high. Make it a top priority to put points here.
Luck: Useful for Sage Fist, as points here can increase the probability of evading attacks while using his dodge skills. Probably not worth a whole bunch of points, though.
Possible Builds
Edit
Strike Master: Atk, Vit, Tal. Sage Fist: Atk, Vit/Def, Cha; Atk, Vit/Def, Tal.
Skill Map
Edit
Skill

State
Lv

Normal Attack

Allows the Panda to use the next attack of his combo.

Passive
4

Charge Attack

Gains SP, dependant on level. (2-4,4-8,6-12 sp/sec)

Passive
3

Roll

Panda rolls up into a ball to evade enemy attacks to a set distance. Removes all lock status skills beneath a certain level. (6,9 m, Level 3,5)

Active
2

Resistance

Gives Panda the chance to resist all negative effects. (8,12,16,?% chance)

Passive
4

Stat Plus

Increases all of the Panda's stats by 2 per level.

Passive
4

8th Gate

Active
1
18th Gate
Active
1

Support Skill

State
Lv

Psalm of Energy

Gives an ally a boost to their SP.

Active
1
Strike Master Skills

State
Lv

Three Steps

A basic triple kick. Hits 3 times. (3,6 dmg)

Active
2

Rushing Falcon

Development of Three Steps. Panda leaps at an enemy, hitting it in the process. Hits 3 times. (5,? dmg)

Active
2

Qi Strike

Panda charges its Qi and unleshes it in a deadly strike, the damage equivalent to a percentage of its ATK. (100,200%)

Active
2

Qi Delay

Development of Qi Strike.

Active
2

Pummel

Panda leaps towards an enemy and attacks it 5 times in quick succession. (5,? dmg)

Active
2

Tower Rush

Development of Pummel. Panda attacks enemies with a jump attack using its back. Inflicts damage and KO on an enemy. (15,? dmg, 10,? KO)

Active
2

Tiger Toss

Panda tosses a small/medium size enemy to inflict damage and KO. (15 dmg, 3 KO)

Active
1

Tiger Pounce

Development of Tiger Toss. Tossed enemies deal damage and KO to nearby enemies when it lands, based on the tossed enemy's weight. (0.5x dmg, 10 KO)

Passive
1

Climbing Cliff

Development of Tiger Pounce.

Active
1

Climbing Mountain

Development of Climbing Cliff.

Active
1

Combo Plus

Temporarily increases Panda's ATK up to a certain amount for each hit it lands on an enemy for a short period of time. (+1,?,?,? ATK/hit, 6,?,?,? sec, 10,?,?,? ATK max)

Passive
4

Rising Vortex

Put description here.

Active
2

Rising Dragon

Development of Rising Vortex.

Active
2

Focused Spirit

Put description here.

Passive
2

Focused Art

Development of Focused Spirit.

Passive
2

Ashura

Put description here.

Active
2
Sage Fist Skills

State
Lv

Drunken Fist

Spin attack to Panda's front. Hits 3 times. (3,6 dmg)

Active
2

Drunken Plus

Development of Drunken Fist. Increases Drunken Fist so that you have a higher chance of evasion while you use it, but at the cost of damage. (10,20% evd, -10,20% dmg)

Passive
2

Water Monkey

A second spin attack to Panda's front. Hits 3 times, and has a 50% chance to evade attacks while in use. Increases enemy's KO. (5,10, dmg, 5,10, KO)

Active
2

Water Crane

Panda jumps into the air, attacking all enemies in a small radius around him. Hits 2 times, and has a 50% chance to evade attacks while in use. (10,20 dmg)

Active
2

Stasis Blow

Leap attack that paralyzes a target for a certain amount of time. (10,15 dmg, 3,5 sec)

Active
2

Death Blow

Leap attack that hits enemy's vital spot, giving a small probability of killing it instantly. (10,15%)

Active
2

Shadow Fist

Adds one more attack to normal attack and Sage Fist skills. (2,4,6,8 dmg)

Passive
4

SP Transfer

Transfers Panda's SP to an ally. (15,30 SP)

Active
2

Sacred Sage Technique

Panda focuses his Qi such that he gains a certain amount of HP whenever he gets over 100 SP. Costs MP to complete the transfer. (100,150 HP, -15,-30 MP)

Passive
2

Wind & Cloud

Fist flow attack that damages all enemies around the Panda, as well as gives him a 30% chance to dodge all attacks while in use. (3x9,6x9 dmg)

Active
2

Rain & Storm

Spinning kick attack that damages all enemies around the Panda, as well as gives him a 30% chance to dodge all attacks while in use. (15x3,30x3 dmg)

Active
2

Lotus Palm

Creates a wave of energy that strikes an enemy for a large amount of damage. (30,50 dmg)

Active
2

Heaven Palm

Panda leaps into the air, shooting blasts of energy at a target and all other enemies around it for high damage. (25x3,40x3 dmg)

Active
2

Mystic Sage

Every 12 seconds, an image of the Panda appears to absorb half the damage taken from an enemy's hit, for level 1. Level 2 is unknown.

Passive
2
NO SKILL CLIP

Storm Raider Skills

State
Lv
======= Basic Tree Additions

Aura Burst

Changes the final combo of Panda's normal attack to an area attack.

Passive
55

Aura Field

Enable Panda's sp charge to effect all allies around him, restoring 20% sp to them.

Passive
60

Roll Around

Perform a special controllable roll that evades most attacks. Also helps remove all lv.5 lock status.

Active
70

Safe Guard

Gives Panda the ability to passively nullify one negative status every 3 minute.

Passive

Super Stat Plus

Increases all stats by 10.

Passive
======= A Tree Additions

Nine Steps

Passively increases damage of ThreeStep and RushingFalcon by the number of its own hit.

Passive
55

Qi Burst

Enables QiStrike to unleash a giant fist that deals its damage in 6m line. Also extend delayQi by 3 sec.

Passive
60

Ogre Impact

Increases Pummel and Tower Rush's damage and range with a red ogre effect.

Passive
70

Crushing Monolith

Greatly increases ClimbingMountain's damage based on its target's height.

Passive

Combo Link

Temporary adds team's current comboes to Panda's attack power. (max +512 atk, 6 Sec.)

Active
======= B Tree Additions

Drunken Spin

Adds 6 damage to drunkenFist and enables it to inflict 'drunk' status that reverses other player's movement.

Passive
55

Time and Tide

Increases WaterMonkey and WaterCrane's damage and chance to evade other attacks by 50%.

Passive
60

Wind Walker

Gives StasisBlow and DeathBlow the ability to warp Panda to target's location. Also double DeathBlow's chance of inflicting death.

Passive
70

Spirit Fist

Increase effect of ShadowFist by 16% of Panda's lv. And increase the range of 'Sage' skills for 1m.

Passive

Heaven Breath

Increase SacredSage and SpTransfer's effects by Panda's current level.

Passive
======= Unique Skills
Revised Skill

Reduces Sp cost of skills by 50%

Passive
55
Revised Magic

Reduces Mp cost of skills by 20%

Passive
60
Revised Art

Reduces cooldown by 12%

Passive
70

Fuujinken

Perform a powerful tornado kicks that continuously pull and deal damages to enemies around Panda.

Active

Raijinken

Charge up and perform one powerful thunder kick from a long distance, damaging targets in wide area.

Active
Other Images
Edit
Ad blocker interference detected!
Wikia is a free-to-use site that makes money from advertising. We have a modified experience for viewers using ad blockers

Wikia is not accessible if you've made further modifications. Remove the custom ad blocker rule(s) and the page will load as expected.